Tier 2:CPPM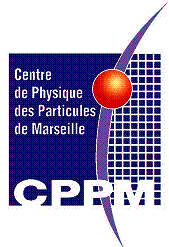 Responsable scientifique : François Touchard
Responsable technique : Edith Knoops
Autres personnes:
Site : Carlos Carranza, Thierry Mouthuy, Michel Ricard
ATLAS: Emmanuel Le Guirriec
LHCB : Andrei Tsaregorodtsev
Le CPPM a installé en ses murs un noeud de calcul intégré à LCG pour permettre à ses physiciens de pouvoir participer efficacement aux analyses futures. Fin 2010 ce noeud passe du statut Tier3 à celui de Tier2 pour LCG
Un projet de grille de campus (LuminyGrid) est en cours d'étude. Il vise à mettre en ligne environ 6000 coeurs de calcul et un espace de stockage de l'ordre de 3PO.
Pour le moment le site est équipé de :
15 serveurs bi-processeurs bi-coeur (Opteron 2.2 GHz) avec 6 GO de mémoire (3 coeurs activés)
10 serveurs (Opteron 2218 bi-processeurs bi-coeur) avec 8 GO de mémoire
46 serveurs (Xeon 5420 bi-pro quadri-coeurs) avec 16 GO de mémoire
11 serveurs (Xeon X5650 bi-pro hexa-coeurs) avec 48 GO de mémoire
3 serveurs C6100 (Xeon X5650 quatre * bi-pro hexa-coeurs 48 GO de mémoire)
soit 852 noeuds de calcul. Les noeuds de calcul sont installés en SL5-64 bits avec les librairies compatibles.
L'espace de stockage est un serveur DPM, séparé en 10 serveurs :
marsedpm : Maitre DPM.
marjack : Deux baies de 15 disques de 1 TO brut chacune, soit 30 TO bruts. Le serveur frontal est connecté au réseau local en 10 Gbps
22 serveurs avec chacun 12 disques de 2 TO, connecté en 10 Gbps au réseau local.
Le site dispose également :
un WMS : marwms.in2p3.fr associé à une machine LB : marlb.in2p3.fr
un serveur VOMS (pour la VO CPPM) : marvoms.in2p3.fr
une interface utilisateur : marui.in2p3.fr
Réseau : Coeur de réseau 10 Gbit/s, double attachement 10 Gbps/s entre les switchs, 1 Gbit/s vers Renater
Site information system: ldap://marbdii.in2p3.fr:2170/mds-vo-name=IN2P3-CPPM,o=grid
Administrator contact : gridadmin@cppm.in2p3.fr
---