Tier 2:CPPM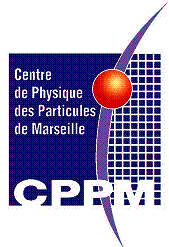 Responsable scientifique : Chris Bee
Responsable technique : Thierry Mouthuy
Le CPPM souhaite installer en ses murs un noeud de calcul Tier-3 intégré à LCG pour permettre à ses physiciens de pouvoir participer efficacement aux analyses futures.
La puissance calcul souhaitée est de 200 KSi2K en 2007-2008 avec une capacité de stockage estimée à 25 TO. Cette puissance devra augmenter par la suite pour arriver vers 2010 à 400 KSi2K et 50 TO de données.
Par le moment le site est équipé de 32 serveurs bi-processeus (Opteron 2.2 et 2.4 GHz) avec 4 GO de mémoire, soit 64 noeud de calcul. L'espace de stockage est de 1.2 TO sur un serveur NFS.
Les VO supportées sont : Atlas, LHCb, Dzero (D0), Hone (H1), Biomed, Egeode, Esr, Dteam.
les statistiques d'utilisation sont disponibles sur le site : http://goc.grid.sinica.edu.tw/gstat/IN2P3-CPPM/