Atlas:SC4
Bienvenue sur la page Atlas SC4 LCG-France

Welcome to the LCG-France Atlas SC4 page
Compte rendu de la réunion SC4 ATLAS au CERN du 9 Juin (S.Jézéquel, G. Rahal) (written in french)
T0 Role(CERN)

Produce dummy files with 1 to 2 GB size(RAW, ESD et AOD) (see T0 Twiki)
Initiate T0->T1 transfers
FTS server sents files to Lyon choosing between 'TAPE' (RAW 43,2 Mo/s) or 'DISK' (ESD,AOD 23+20 Mo/s) areas

T1 Role (CCIN2P3)

Get files from T0 (dedicated dcache area: L. Schwarz)
Provides LFC (lfc-atlas.in2p3.fr) and FTS service (cclcgftsli01.in2p3.fr) (D. Bouvet)
Send all AODs to each T2 (20 Mo/s) using Lyon FTS server
Regurlarly cleanup files

T2 Role (BEIJING, LAL, LAPP, LPC, LPNHE, SACLAY, TOKYO)

Get files from T1 (Lyon). Files on the T2 are written in /home/atlas/sc4tier0/...
Clean-up the files (?)

Other roles

ATLAS (S. Jézéquel, G. Rahal) : Initiate T1->T2 transfers
Information from DDM monitoring
---
---
--
Transfer rates for LYON and associated T2s (validated files by DDM):
Information from FTS monitoring
T1->T2 :

15 concurrent files and 10 streams for LYON-TOKYO
5 concurrent files and 5 streams for LYON-BEIJING (SE not enough powerful for 15/15 )
10 concurrent files and 10 streams for LYON-French T2s (LAL, LPNHE, LPC, SACLAY) except for LAPP (5 concurrent files and 1 stream)
Information from dCache monitoring (provided by Lyon)
LYONDISK : 25 gridftp concurrent access maximum
LYONTAPE : 10 gridft concurrent access maximum
VOBOX Configuration
4 processors 3 GHz
4 GB of memory ( 2 GB dedicated to SWAP)
The monitoring of the Vobox daily, weekly and monthly can be found Here
Disk space availability
Daily news
20 June 2006: Mail from Miguel Branco (DDM responsible)
Today we started deploying DQ2 on the remaining T1 sites (not all sites still available).
Attached is the result of a (nice) ramp up, easily beating SC3's record (on the 1st day of export of SC4) peaking at ~ 270 MB/s. Each 'step' in the graph is an additional T1 being added to the export.
Dataset subscriptions are now slowing down and will resume tomorrow. Our DQ2 monitoring has been turned off and we expect to have it back tomorrow! Still a long way to go until we have a reasonable understanding of the limiting factors..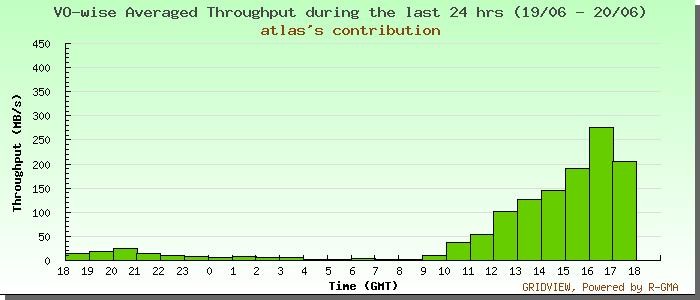 SC4 transfers from LYON to T2s:
Post-mortem DDM meeting